June 7, 2013
We've been on the web, Facebook, Twitter, YouTube, Twitter, Gowalla, and Newsday. We're back with our Third Annual Tour. Open invitation to anyone who likes ice cream and a fun day of trying different interesting fresh homemade flavors at local ice cream shops (or shoppes).
There is no cost to tour with us. Just show up in your own car at Snowflake, 1148 West Main Street, Riverhead at 10:00am on Saturday, June 15th, 2013. Buy ice cream at every place (or wherever you'd like), any flavor, any size. Whatever you want to try. Join us at anytime, leave at any time. Some places offer free samples. An itinerary will be posted here by Sunday, 6/9/2013.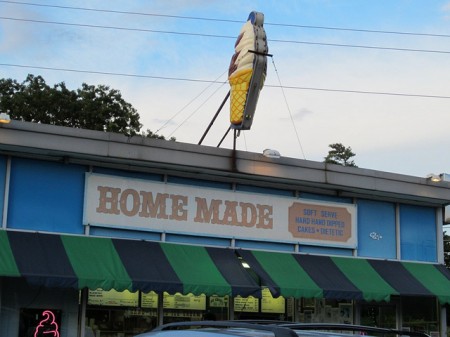 —–
Preparation: Please eat a light and healthy breakfast. Expect to eat 5-8 single scoops of ice cream throughout the day. Lunch is optional. We might be having dinner at Hildebrandt's (see schedule below). As much as we'd like to believe in technology, it's probably best you bring some cash in case one or two of the ice cream parlors only take cash.
Clothing: Please wear the brightest blue t-shirt or outfit you have. We're hoping to look and act like a giddy group. 🙂
Start time: 10:00 a.m. EDT
Start location: Snowflake Ice Cream Shoppe, 1148 West Main Street, Riverhead, NY 11901
Ice cream parlors we're visiting:
[10:00am–10:40am] Snowflake Ice Cream Shoppe
[11:30am–12:10pm] The New York Stuffed Cone Company
[12:45pm–1:25pm] Wolfie's Gourmet Frozen Custard
[1:45pm–2:25pm] Herrell's Ice Cream
[3:00pm–3:40pm] Bollinger's Family Restaurant (lunch/dinner available; optional)
[4:10pm–4:50pm] Hildebrandt's (dinner available; optional)
[5:05pm–5:45pm] Pazzo Gelato
[6:15pm–7:00pm] Walt Itgen's Ice Cream Parlour

*All times are approximate and highly subject to change. Please follow @liictour on Twitter for updates during the event.
Transport: There will be several cars driving to each location. If you'd like to carpool with anyone, then leave a comment below.
We hope to see you with your friends and family this weekend.