July 20, 2015
We're back with our fifth annual tour – the Long Island Ice Cream Tour (aka LIICT). It's an open invitation to anyone who likes ice cream and a fun day of trying interesting fresh homemade flavors at local ice cream shops (or shoppes).
There is no cost to tour with us. Just show up in your own car at Snowflake, 1148 West Main Street, Riverhead at 10:00am on Saturday, July 25th, 2015. Buy ice cream at every place (or wherever you'd like), any flavor, any size. Whatever you want to try. Some places offer free samples. You can join us at anytime, leave at any time.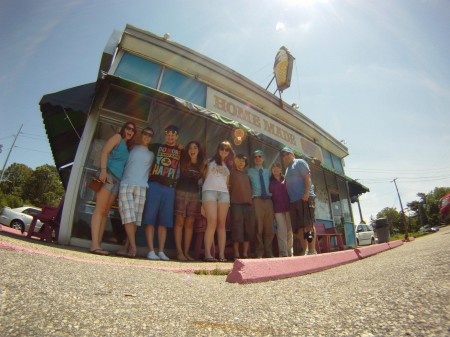 —–
Preparation: Please eat a light and healthy breakfast. Expect to eat 5-8 single scoops of ice cream throughout the day. Lunch is optional. We might be having dinner at Hildebrandt's (see schedule below). As much as we'd like to believe in technology, we recommend you bring some cash in case any of the ice cream parlors only accept cash.
Clothing: Wear orange.
Start time: 10:00 a.m. EDT
Start location: Snowflake Ice Cream Shoppe, 1148 West Main Street, Riverhead, NY 11901 (map)
Ice cream parlors we're visiting:
Schedule: Ⓥ = Vegan options
** SECRET STOP: [9:00am–9:30am] Magic Fountain

Ⓥ 

**
[10:00am–10:40am] Snowflake Ice Cream Shoppe
[11:30am–12:10pm] Granny's Ice Cream & Frozen Yogurt Ⓥ
[1:00pm–1:45pm] Wolfie's Gourmet Frozen Custard
[3:30pm–4:00pm] Herrell's Ice Cream
[4:40pm–5:40pm] Hildebrandt's (dinner available; optional)
[6:00pm–6:30pm] Pazzo Gelato
[7:00pm–8:00pm] Itgen's Ice Cream Parlour
*All times are approximate and highly subject to change. Please follow @liictour on Twitter for updates during the event.
Transport: There will be several cars driving to each location. If you'd like to carpool with anyone, then leave a comment below or fill in the poll here.
We hope to see you with your friends and family this weekend.
——-
Checklist:
Camera – We will have a camera crew and will be able to send you photos and videos after the event. If you do bring a camera, be sure to bring spare batteries and/or spare memory cards.
Phone charger – You will likely be away from a power outlet for 8–12 hours. Bring a portable USB battery charger and/or a car charger.
Sunscreen – Put some sunscreen on before leaving. It's possible we will be out in the sun for several of the stops. We don't want anyone getting burnt out from a long adventure let alone getting your skin burnt.
Money – Most ice cream shops will accept debit/credit cards. Some may accept Apple Pay. Some may only accept cash. Bring some cash, if possible.
Transport Fuel – If you drive a car powered by petrol, then you may need to fill up once throughout the day. We recommend arriving with a full tank. We drive about 170 km (110 miles). The nearest Tesla Supercharger is 7 Aerial Way, Syosset, NY 11791.
Join the event on Facebook and Google+.
Map of the tour's route: